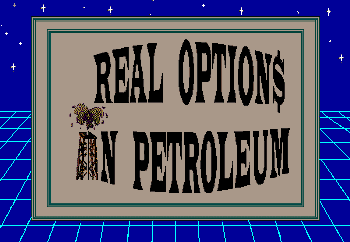 www.puc-rio.br/marco.ind/
This Site Is Dedicated to Real Options Approach to Investments in General
and Especially in Petroleum Exploration and Production (E&P).
The website started in 1995 as a component of my M.Sc. dissertation.
Sometimes a growth option is exercised through new updates!

2008 Special Update: ROC in Rio 2008 . Click here to know the main new additions in this update.
New features highlights:


Table of Contents


Send comments and contributions by E-mail:

E-mail to the web-author by clicking here


Web Dinosaur: This website is hosted by PUC-Rio WWW Server
since October/95, and remains in the same Internet address (URL)!

Thanks to Industrial Engineering Department, from PUC-Rio,
and to Rio Datacentro!

This site looks better with browsers that understand table tags, frames, font symbol, and JavaScript.
If your browser doesn't understand, is recommended to download a modern Web browser, such as
Netscape Navigator/Communicator or Microsoft's Internet Explorer

---
Last Updated: April 23rd, 2008.
---